Today I attended two operas produced by New York City's three-year-old Heartbeat Opera: MADAMA BUTTERFLY and CARMEN. I believe that these were the most artistically satisfying performances of these works I can ever remember attending.
While I glanced at several other reviews, I purposely did not read through them before writing this so as not to be unduly influenced.  I indeed was so inspired by these performances, that this is Opera Theatre of Montclair's FIRST blog entry! I tend to avoid reviewing the work of my peers, but THIS work is extraordinary in so many ways.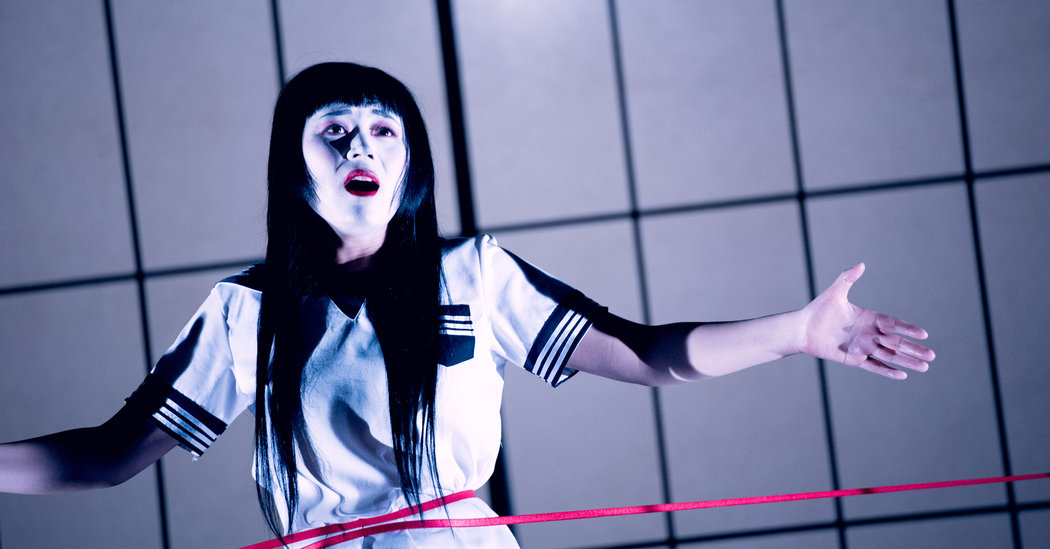 I completely procrastinated in getting my tickets even though I had been thinking of attending from the time I viewed Heartbeat's first ad. A 90-minute version of Carmen? And Butterfly? Outrageous! How could they possibly maintain the intentions of the composer with such a short show?
My procrastination meant that I had to be put on a waiting list - how marvelous that this small company sold out! I was fortunate and got in to see TWO operas today.
The shows were produced at the Baruch Performing Arts Center in a black box theatre.  One of my few criticisms of this production is absolutely not the fault of Heartbeat. I'm NOT a fan of black box theatres for opera.  I feel that the surfaces (or lack of them) do not lend themselves to an attractive acoustic. I greatly prefer singing and hearing singing produced in a space with mostly wood surfaces.  I felt that certain singers showed more fatigue than others singing in this space.  That said, as a producer, I'm sure it is a wonderful convenience to have a designated theatre space of that type, a true empty canvas, with all the tech stuff at one's disposal.  I got a sense from the directors' speech that Baruch was being generous with the space, so good on them.
The casting of both operas was spot on.  It is clear that the directors KNOW voices (not something one can take for granted with certain opera companies, believe it or not).
There was so much RIGHT about these two shows, it is tough to know where to begin.  Butterfly was the first offering of the afternoon.  As for the set, the audience was greeted with the sight of long elegantly-hung saffron cloth with the symbol of a butterfly. Very simple - almost Pottery Barn - aesthetics were on display. The elegance and beauty of Puccini's score, beautifully played by a string quintet plus harp and percussion, was more than enough. 
I was biased against the use of the device of a child viewing the story as an explanation of how he got to be an American boy ("Sorrow"). This is based on my disappointment with OTM's use of a similar device in one of our productions - adding a kid to the action for the sake of it.  This, however, was done in an unobtrusive, completely sensible and tasteful way which adds to the story. It opens with the child typing various racially-charged terms into a search engine which appears on the supertitles screen.  
The purist might also scoff at the idea of leaving out most of the first act and playing it out of order.  In the 90-minute scenario, this enhanced and tightened the whole experience. I remember OTM soprano and stage director, Sabrina Palladino, and I joking a few years ago about how both of these operas could be slashed and greatly improved (wish you'd been with me today, Sabrina!).
In addition to hiring singers with excellent vocal technique, Heartbeat also clearly values the true singing actor.  Dramatically heartwrenching and nuanced performances were given by Banlingyu Ban as Cio Cio San, Matthew Singer as Sharpless and Siobahn Sung as Suzuki.  
I have to say, Pinkerton is one creepy dude!  To his credit, Mackenzie Whitney manages to make him even worse!! Despite the beauty of his tenor, my skin was crawling as this "pedophile" eyed the 15-year-old Butterfly.  The direction had Pinkerton playing out all kinds of typical horrible American stereotypes right down to taking a selfie of the "happy couple" in the midst of the wedding transaction.  The love duet, played out of order, is sung while Butterfly is being tied up and abandoned that way by Pinkerton. Her youth is highlighted by her costume which looks like something worn by a Catholic schoolgirl. The scene is fittingly disturbing, yet in an appropriate way.
Congratulations to the stage director, Ethan Heard, for an original, timely interpretation that honored the intentions of the composer.
Carmen was completely different in SO many ways! Firstly, the instrumentation was wild!  A jazz ensemble was used including a guitar, saxophones, violin, double bass, acoustic piano and percussion, and an occasional accordian, in a brilliant arrangement by Daniel Schlosberg. It completely captured the essence of the story. The instrumental ensemble particularly shined in the entr'actes - where they really let loose with the jazz idiom - and in the bacchanalian "Les tringles des sistres tintaient" (LOVED the tempi on this - started much slower than usual and really went crazy allegrissimo by the end).
Let's talk about the story update - rough characters at a border crossing transporting drugs. Don José is portrayed as even more naive than usual as a gullible border crossing guard. Much like with the Butterfly, a great deal of the original is omitted and/or played out of order, but it works.
The set is brutalist, a chain link fence topped with barbed wire with a guard house and a ladder.  Much of the action is played behind the chain link fence which creates an interesting visual effect all on its own.
Both as a tool to move the action along and also, I'm sure, as a cost-saving measure, the chorus as well as the entire characters of Frasquita and Mercedes, Dancaïre and Remendado are eliminated.  There are several men who fill in as non- or minimally-singing supers.  Both Carmen and Escamillo cover these additional vocal lines as needed.
Again, the casting was spot-on. Carmen was spectacularly sung, with intense physicality and sex appeal, by Sishel Claverie. The Escamillo of Ricardo Rivera was sexy and assured with pristine vocal technique and presence. The fight sequence was choreographed by the prestigious fight choreographer Rick Sordelet (a long-time Montclair resident) and played very well by Mr. Rivera and tenor Brent Reilly Turner.
After many conflicts, I FINALLY had the chance to see the delightful Jessica Sandidge in a role, this time as Micaëla. Again, Jessica fit right in with her exquisite vocal technique, dynamic control and ethereal stage presence.  Yet, she was able to affectingly convey the mixed emotions of the scorned girl left behind while, in this production, enduring some pretty rough handling.
The cries of bravo and even a standing ovation had begun following the murder of Carmen when suddenly a spotlight appeared on Carmen standing center stage, bloodstained.  As Ms. Claverie was catching her breath from the intensity of the previous scene, she scanned the audience as if not sure if she was alive or dead.  This became her time to sing the Habanera, in this way serving as a commentary on her life after death.  It was breathtakingly sung and the simple spot was just perfect.
Further congratulations to the stage director of Carmen, Louisa Proske.
I may very well end up writing much more about these productions. These are very hard acts to follow.  The Metropolitan Opera simply cannot compete with this level of intimate creativity and artistry if for no other reason than that: intimacy.  The Met really needs to focus on sticking with truly GRAND productions if it wants to continue to have an audience.  I was immensely inspired today and hope that Opera Theatre of Montclair can contribute to the growing community of small opera companies like Heartbeat who have something new to say about these classic works.